Per omaggio a mia madre Lina inserisco "Ottetto per madre" tradotto in inglese dall'Università americana John Cabot di Roma. (È compreso nel libro Casa d'Aquila).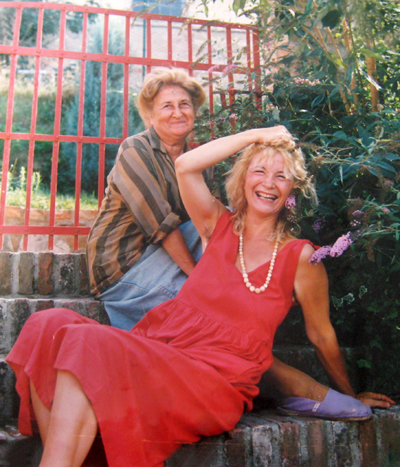 Ottetto per Madre
Il Panda
Senza pace, con pena e senza girarmi
mai, pestando
mica pepe o caffè ma gardenie, io amo
la mamma e i topi; li metto insieme chissà
perché. O ancora, Perché volere bene a quel
modo? Spezzato così in due, collo in già,
polvere senza cerniere, bottone, qualcosa.
Sempre
senza girarmi. I Perché chiarendo la vita ai
tranvai, alle piante. Lei, pura,
mi dà
questa riserva di bambù. Nient'altro.
Poi via. Io
su, che l'ho addosso oramai e non posso
schivarla, pestarla nemmeno, mettendo
con cura ogni piede tra l'erba.
2
Si fa sabbia così, si sfalda
al vento di casa mia. Accusa
altre cose deboli, la cecità, per
esempio. Io non so
cosa dire quando siede su me come
fossi cemento. Oppure
vola, ci credo, va via, si stende
altissimamente e in largo. La
guardo con quella
paura dei nani per un monumento.
3
Lei ora elegante, vistosa come le madri, si stacca dal
niente e ride. Qualcosa
dei venti, d'urgente, una fuga, un ritorno, mi lega
a lei che darei
tutto il corpo per quella risata.
E' salita
col petto in su verso l'estasi delle nubi,
a quella distanza più nere che altro; poi
È scesa; pioveva. Ha
saltato la corda coi piedi fiammanti di santa e al collo
perle vere.
4
La vecchia Lina è caduta, cantando, di
schiena, com'una forza muta d'un tratto
cedesse, togliendo le staffe dietro. Era a cavallo e
sbatte in terra. Si prende
al viso tirando invano le cataratte. Eccola
lì, la vecchia canina mamma.
5
Una donnina tutta lepre, sveglia,
s' accontenta della giornata e beve acqua
com' una spugna. "Ehi!, non ho mica cent'anni
per aspettare che te ne vada! Sembri Lazzaro".
Più tardi
sfoneremo i capelli alla sera. Rivede
tante cose crollare per un capello, saranno
persone, cose, non sa, ma non meraviglia
che resti il sughero ancora sulla bottiglia
del fumo. Ce la passiamo
a vicenda. Anche la
città s'incendia ai suoi piedi ora
ch'è buio e lei evapora sulla
pira, entrando in me con gas
letale. Siringa. Chiudo
in tempo col tappo il foro,
e niente è più bello qui: lo
sguardo di lei sull'anello al dito, su
me, poi qualcosa di buono, la stufa, quel
caldo oramai più fratello d'un uomo.
6
Potrei tirar su con le mani
tutta l'acqua del mare. Anche più. E
attraverserei il fuoco da qui a lei in questo
oggi frocio. L'hai
vista l'altro giorno com'era? Piccina. Tutto il
mondo piccino. Le rotaie del destino oramai
fanno clic. Ma lo sai
quanto costa un'ochetta così? Che
sotto terra, dopo le cene, il quadrato di tanta insonnia,
con lei persino
lì starei bene.
7
Volano gli spiriti affettivi di qua e di là su
noi paurosamente soli, salvati
allora dalla coltre ch'ha parato
il salto. Quel
cinema o quella morte la ribeviamo in
piedi nei ricordi di lei ogni sera. Ossessivi.
E' per me esplosione sull'intera linea di fuoco,
perché troppo volano gli spiriti affettivi, bruciati
come cera dal fosforo.
Penitenza
Vera, quei canti della mamma al suolo che
cantilena ginocchioni senza memoria.
8
RICHTER
Ancora
scale richter. Fuori il sole
fa foia. Ma qui! muore la
mamma com'un uccello. Pari dignità. Bisogna
dirlo che sta andando via. E' tutta
nel becco, tutta lì, tutta vecchie
penne senza più cervello.
Non vi capiti mai d'essere misurati;
tanto
è l'ardore tra noi. Più
liturgia di dolore sacro, con scranni
cerebrali e vesti da cerimonia; chiusi
sempre tra le pareti come mosconi.
Sono
Poco e troppo le cose che vi posai con le mie
Ali: tappeti celesti e candelabri vuoti. Anche
dentro l'esilarante Richter, che assuefà
perdio, metà
come sono, ho sete, ma non
bevo io disegni divini mai
innocui.
Octet for a mother
Panda
Restless, painful and without ever turning round, crushing certainly not pepper or coffee, but gardenias. I love mum and rats; I put them together who knows why. Or again, Why love that way? Thus broken in two, neck down, dust without zipper, button, anything. Always without turning round. The Whys making life clearer to the streetcars, or to plants. She, pure, provides me with this supply of bamboo. Nothing else. And then away. I go up, carrying her myself by now, and can't drop her, nor crush her, while I carefully place each foot between the blades.
2
This is how sand is made, crumbled by my home wind. It reveals other weak things, for instance blindness. I don't know what to say when she sits on me as if I were cement. Or she flies, I believe it, away she leaves, she stretches out and up and all around. I watch her with that fear dwarfs have for monuments.
3
She, now elegant, showy, like mothers are, she comes out of the blue and laughs. Something windy, urgent, an escape, a return binds me to her I'd give my whole body for that laugh. She rose chest outward, toward an ecstasy of clouds, from that distance blacker than not; then she descended; it was raining. She skipped rope, with her blazing saint's feet and real pearls around her neck.
4
Old Lina fell down, while singing, on her back, as if a dumb force had suddenly collapsed, drawing back the stirrups. She was riding and now she hits the ground. She grabs her own face, pulling in vain her cataracts. Here she is, my old dog-like mother.
5
Little woman like a hare, awake, content with the day, she drinks water like a sponge. Hey, I hardly have a hundred years to wait for your departure! You look like Lazarus. Later we shall dry up the hair in the evening. She sees many a house collapse for a hair's sake, they are people, or things, she can't tell, its not surprising that the cork still stays on the bottle of smoke. We pass it to one another. Even the city burns at her feet now that it's dark and she evaporates on the funeral pyre, entering me with lethal gas. A syringe. Just in time I shut the hole with the cork, and nothing is more beautiful here: her gaze on the ring on her finger, on me, then something good, the stove, and that heat, more brother than a man, by now.
6
I could gather all the sea water in my hands. And more. And I would cross the fire from here to her, in this queer today. Did you see how she looked the other day? Tiny. All the world is tiny. By now the railtracks of destiny click. Do you know what such a chick will cost you? Even underground, after the dinners and the square root of so much insomnia, even there I'd feel good with her.
7
Love spirits fly here and there over us fearfully alone, saved then by the blanket breaking the fall. Standing, we drink that cinema or that death again each night in her memories. Obsessively she is a blast along the line of fire, because love spirits fly too high, burned up like wax by sulphur. Real atonement those chants of my mother kneeling on the ground in oblivious sing-song.
8
Richter
Richter scale again. The sun outside sends me in a heat. But here! Mum dies like a bird. Same dignity. Il must be said she is leaving. She's all beak, all there, old feathers without a brain. That you never be measured; so great is the fervour between us. More liturgy of sacred suffering, on cerebral pews and ceremonial robes; shut in by walls like bluebottles. Too little and too much is what I lay down with my wings: celestial carpets and empty chandeliers. Even inside the exhilarating Richter, who damned habituates I'm the half of myself, I'm thirsty, but I don't drink divine plans never innocent.